Selena Gomez Adds A Silent Film Twist To Her 'Back To You' Video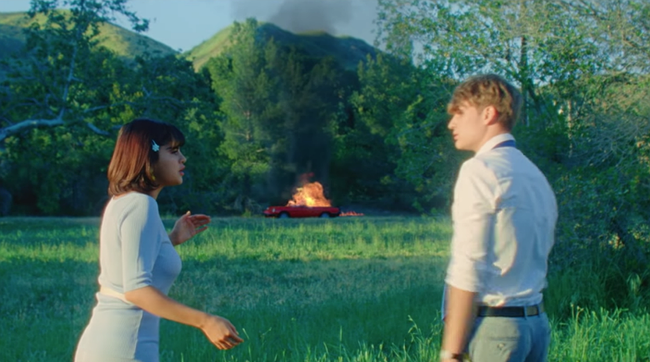 Selena Gomez previously admitted that "Back To You," her contribution to the soundtrack to Season 2 of 13 Reasons Why, means a lot to her, so it wasn't surprising to see that the star put some extra thought into the music video for the track, which dropped on Tuesday (June 5).
In the almost-five-minute clip, which features subtitles to showcase a silent film-style approach, Gomez and her love interest appear at a house party, before deciding that they want to leave the affair and steal a car. After driving to the woods and finding out that they're wanted for grand theft auto, they end up arguing about the consequences of their crime. It sounds overly dramatic, but you can thank the pop track and continuous captions for injecting some lighthearted energy into the viewing. After Gomez decides to burn the car to destroy all evidence, the pair gets into a fight and returns to the party. Back at the house, Gomez reunites with her love interest in the living room and asks the big question once again: "Do you want to steal a car?"
While many fans have wondered if "Back To You" was a track inspired by her long-time romance with Justin Bieber, the clip will surely provide more fuel for those hoping for another reunion between the pop peers. Not only does the video feature Gomez reading a book titled Tales of Infidelity, but it also includes scenes of her taking polaroids of her love interest. Back in March, she sent a cryptic birthday message to Bieber on her Instagram account, sharing a photo of herself with a Polaroid photo of the singer on her forehead.
Photo: YouTube/Selena Gomez